Cakewalk Pro Audio Deluxe 9.0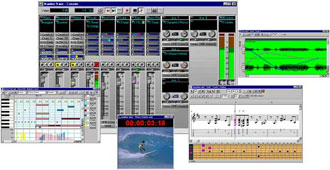 Cakewalk Let's You Mix With Motor-Faders
---
Note: As music software is a fast changing technology the content of this page is already outdated. The new sequencer from Twelve Tone Systems is called Sonar. It is already in version 4 and has greatly improved features. Take a look at Sonar 4.
---
Sorry, Mac users. This fully featured Midi and Audio-Sequencer offers a big advantage over the competition. The optional Studio Mix hardware, a great little dedicated interface for mixing and monitoring, comes with motorized faders, which is a little sensation.
It's also very stable and probably the best sequencer for web oriented projects. We also liked it very much for Notebook studios because it handles the processing power and Hard disk-resources quite reasonable.

Plus:
Broadest Hardware Support

Optional motorized faders

Good "tape feeling"

Guitar fret board display

Very stable performance

Good "web-features"

Includes Giga-Sampler

Minus:
Manufacturers Homepage: Twelve Tone Systems
Platform: PC (Windows 95/98)

Typical Users: Home recording Artists, Professional Musicians, Tape oriented Audio users
Other People's Opinions: Pro Rec.com

Supported Hardware: It doesn't require proprietary drivers, but uses standard Windows wave drivers. That means you can use any PC audio hardware that matches your production requirements.

The homepage also provides a fabulous Hardware-Chart , which gives you some soundcards that proved to work.
---