Laptop Recording Systems
Laptop Recording is the new trend in the music industry
Professional Laptop Recording, editing and mixing on a laptop is a dream that became reality in the last years. Notebooks and especially the new interfaces like fire-wire and USB 2.0 are fast enough to make it possible.
All you need is a good audio interface and you can start recording in highest quality.
Also the harddisk is no problem anymore. You don't have to use the relatively slow internal drive. Just plug in one of the new USB2.0 or fire wire drives with up to 250 Gbyte and it will take a long time to get them full.
So, what are the important things to look for when it comes to Laptop Recording?
What is not that important?
Audio Interfaces
internal:
Probably everybody tells you that the built in audio connections in a laptop are not good enough to produce serious music. I don't know if this is really true.
If you just take the hard facts you must admit that a lot of hits have been recorded on equipment much worse than the built in 16 bit soundcards. If you think about using it for Laptop Recording, test if it's good enough for your requirements.
The only thing I would not recommend are the built in Mic-preamps. They are usually really not great and the environment of a laptop is too noisy to use an unbalanced microphone signal in his vicinity.
But if you amplify the Mic signal with a good Mic-preamplifier, you can use the line input. This should give you a decent signal to noise ratio.
external:
Most people will decide for the external interfaces because they are not too expensive, of higher quality and you need a Mic-preamp anyway.
What I suggest is a breakout-box with a built in limiter or even a compressor to record vocals. With compressed vocals you instantly get a better sound for most projects.
Of course you could also do that with your compressor plug-In but first this needs processing power and second lets you waste digital headroom (digital distortion sounds pretty nasty as you probably already know).
The probably smallest version of audio interface for Laptop Recording comes from digigram. The Digigram VXpocket V2 or 440. The V2 card has two, the 440 four balanced analog mono inputs at microphone or line level, and two (440 four) balanced analog outputs. One stereo SPDIF input and output and a LTC (SMPTE) time-code input.
A breakout cable is provided with XLR connectors for the analog inputs/outputs and chinch connectors for the digital and LTC.

Here are some examples of good audio interfaces for recording 1 or 2(stereo) tracks at the same time on laptops. The edirol UA-25 USB is one of the few with built in limiter.




For recording more inputs at the same time you would need a firewire or USB 2 interface. A very good choice are almost all of the Hammerfall products from a German company. They have very low latency and are technologically superb.
This is the RME Hammerfall DSP Fireface 800, a 192kHz/24 Bit 56 Channel FireWire Audio Interface.



For using it with a laptop you also need the PCMCIA card RME Hammerfall DSP HDSP CardBus Notebook Interface.

If you like to have a real mixer with faders and knobs and if you plan to record more than one or two tracks at a time, you can also take a look at these workstations.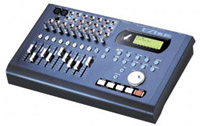 Of course they are not so small to put it in your pocket, but not too heavy for taking it with you. And you can use them as a standalone digital mixer without a computer.
---