Fruity Loops FL Studio 6
Detailed Review

February 2006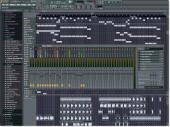 click to enlarge

The new Fruity Loops FL Studio 6 competes with the big, established recording packages


The developers of Image-Line software were quite busy. It is obvious that they don't want to stop at having programmed the most popular software for Hip Hop and Dance music on the Internet.
They now seem to go for the top of music production software. You actually can do almost anything now with FL Studio 6, but just a little different than with other programs.
Of course it's not as easy to handle than at it's beginning. If you want to use all of its functions, it takes quite a while and some persistence to learn this now pretty complex program.
The main difference, what sets it apart from other recording programs, is the unique structure. It is the ideal sequencer/recording program for all the people that liked the old pattern oriented sequencers, like "Notator" on the Atari.
Nobody has ever written a program for them after the boom of tape oriented software like Cubase started. With this programs you could easily build up a song structure while adapting it or changing it in detail was tedious work.
If you want, you can work strictly pattern oriented like in the old days, but with a lot of additional power.
But Fl Studio 6 brings you the best of both worlds. It is definitely the program for those who want to mix a pattern style with a straight tape-like approach.
If you are strictly tape oriented with no ambitions however to use patterns, there are programs that make it easier for you just because of it's basic structure.
This software became so complex and it has so many features that I decided to write a more detailed review this time.
Now enough rambling, let's start with facts.

Hardware - FL Studio 6
Supports Asio and Direct-Sound drivers. That means, you can either buy a soundcard with Asio drivers or use your built in card.
When you use a standard sound card, it is highly recommended that you download the Asio4all-driver at http://www.asio4all.com/. It lets you use the inputs for recording and gives you much lower latency.
If you want to record audio, you actually have to use Asio drivers.
Multiple in and outputs of soundcards are of course supported by FL studio 6.

Installation - FL Studio 6


Although there is also a

boxed

version in the shops that delivers a printed Getting Started manual, as a bonus the Dreamstation DX Instrument and a CD-ROM sample library containing over 3000 royalty-free samples and 300-plus loops, FL Studio 6 is mainly downloaded from the

Internet

.
This is somehow

typical for this software, because it see

med to grow up with

the Internet. The world wide web made the software popular and wildly successful.

The company, Image Line, decided to make the original download only 46 MByte big. This contains a variety of instruments, samples, presets and some really cool demo projects.

If you need additional food for FL Studio 6, you can download that from their homepage.

Installation is a short and painless action with not much to say about it. After that, you start with the Audio Setup.

Audio Setup - FL Studio 6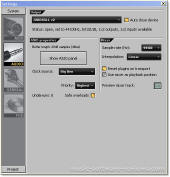 click to enlarge


On purpose I decided to try FL Studio first on a standard laptop with no additional hardware or drivers.
First thing I had to do is adjusting the buffer length in order to listen to the great examples that come with FL Studio. With the default setting there were too many buffer underruns and it sounded horrible.
I had to choose a pretty high setting (around 10.000 samples =225ms) to get it working. With this setting however, you have quite some latency and the VU meters of the program do not correspond anymore with the actual sound you hear.
To avoid that, Fruity Loops recommends to download an Asio driver from http://www.asio4all.com/. This is a small driver (around 300kb) that lets you access the built in soundcard as an Asio device.
I did as recommended and it worked great.
With that driver I could play the default demonstration song with a buffer length of 225 samples which is only about 5 milliseconds compared to the 10.000 samples, 225 ms of the standard direct out drivers.
Beside that, it lets you also use the stereo inputs of your laptop for recording.
The other options are not as important and it's recommended to play around with them if you want to tweak your audio setup for maximum performance. I didn't notice any big differences however, so it's up to you if you devote time to it or not.
Next, If you want to use MIDI, you continue with the MIDI Setup.

MIDI Setup - FL Studio 6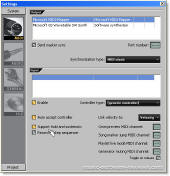 click to enlarge

In the MIDI Setup you have some options.
Output Mapping. That means that you connect the midi outputs of FL Studio 6 to internal or external MIDI devices.

Send Master Sync. You can send either MIDI Time code or MIDI clock to the outputs above.

Enabling Inputs. You can enable or disable inputs of your MIDI interface.

Velocity mapping. The velocity value of Note-Ons from the MIDI input can be linked either to nothing, velocity, filter cutoff or filter resonance. So you can play with the filter of a synthesizer sound just by hitting the keys harder or softer.

Hold and sostenuto pedal. FL Studio will use foot-pedal messages to sustain currently held notes on a MIDI keyboard. You can toggle between supporting or ignoring hold and sostenuto messages.

Record to Step Sequencer. Normally all notes recorded from your MIDI keyboard are recorded into the Piano Roll. If this button is checked, all recorded notes from your MIDI keyboard will be put in the Step Sequencer, not in the Piano Roll.

Supports controllers. This is a very nice feature of FL Studio. For the ultimate convenience you can get yourself a hardware controller. Which one depends mainly of the way you make music.

The variety of controllers grew significantly over the last years. From keyboard players and synth freaks to sound engineers and DJs, everybody gets something to grab.

If you want to work seriously and frequently with this software, think about getting a hardware controller. Once you have mastered this new way to produce, recording becomes a lot easier and faster.


If you click at the eBay link to the right of each controller it lets you easily check if this item is currently available on eBay.

If you click at zZounds, you come to an online store that offers this item. You usually also get a detailed description there if you want to find out more about a controller.


That means, you don't have to configure this devices. Just plug them in and they have the most important functions preconfigured. Of course FL Studio 6 also supports a generic MIDI controller.
There are also functions for more specialized tasks that you might never use.
Omni Preview MIDI channel. Lets you set a channel on your MIDI keyboard, where each keyboard key previews one of the channels in the Step Sequencer.

Playlist Live Mode MIDI Channel. Sets a channel on your MIDI keyboard, where each keyboard key turns on/off one of the patterns in the Playlist window, if this is switched to live mode.

Song marker jump MIDI channel. Set the midi channel to be used to accept MIDI note data to control Playlist Time Marker jumping. The white keys let you directly jump to the markers while the black keys let you select and deselect regions, add markers etc...

Playlist live mode MIDI channel. Set the MIDI channel to be used to accept MIDI note data to control Playlist Time Marker jumping as indicated above.

Generator muting MIDI channel. Allows setting of a channel on your MIDI keyboard, where each keyboard key mutes/unmutes one of the channels in the Step Sequencer.

Toggle on Release. When turned on, instead of switching back to the previous state after a second press (in the muting and live mode channels), the state will switch back whenever the key is released.

Basic Structure - FL Studio 6
The Basic structure of Fruity Loops FL Studio 6 is different than of other recording programs.
Besides linear tracks for recording audio you have a special kind of pattern sequencer, that you have to understand before you can work with this software effectively.
First, I try to describe the structure from overview to detail starting with the big picture.
The main window, called "Playlist", is divided into an upper and a lower half. The lower part contains the linear audio tracks, while the upper part contains all the patterns you created before.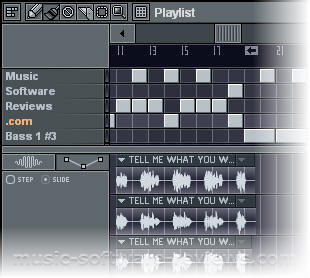 One line in this upper window doesn't represent a common track that records one instrument as you would expect, but a track playing a whole pattern with all the recorded instruments in that pattern.
By painting colored rectangles into this line you determine when this pattern plays. Left click paints, right click erases, that's very fast.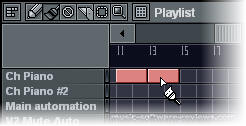 A pattern of FL Studio 6 can be as simple or as complex as you like. If it plays only one instrument, it is more like a conventional track, if it plays lots of instruments, it behaves more like a pattern.
Every pattern contains all the instruments of a song but only the playing data of this pattern.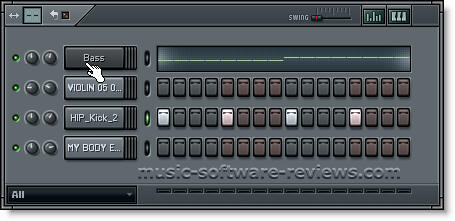 Every instrument uses one "channel". A channel routes a stereo signal either from a sample or one of the instruments to the master-track. Per default it is not routed to one of the mixer tracks as one would expect, but directly to the master-track.

All instruments or sampler are therefore stereo. Because of this concept, no multi-outputs from one instrument are possible.
But you can use many instances of a sampler or an instrument in other channels so you can easily build multiple outputs with the same instruments.
So, the audio routing in FL Studio 6 is very simple:
Channel (instrument or sample)

Master, or
Channel

Mixer Channel

Master

You can of course make it more complex by routing it from one mixer channel to another and so forth to create sub-groups like on a regular mixer with sub-groups.
The MIDI or other playing information is stored in patterns. A pattern can be as long as needed but per default it's one bar.

If you didn't understand this explanation of the basic structure of FL Studio 6, I will try to explain it now the other way around, starting with the smallest building blocks:
The smallest unit in FL Studio 6 is a channel.

A channel is stereo and can be filled with any kind of sound generator like samples, sampler, loops, scratching unit or instruments.
The stereo-signals of channels are mixed per default directly to the master track. That means you do not necessarily need the mixer channels in FL Studio 6.
You can also route a "channel" to a mixer channel for equalization or adding effects.
Now you have setup your orchestra. But in order to let it play, you have to record some playing information.
This is recorded into patterns.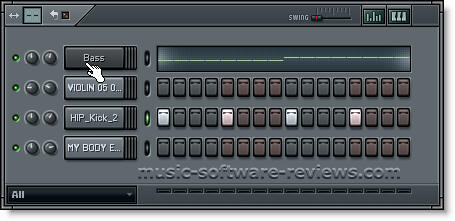 (You can make patterns as long as you want. That means, theoretically, you could use just one pattern to record your complete song even if this would not be very handy)
In a pattern you have all the channels you filled with sound generators above at your disposal.
You can let them play, either by pushing buttons of the step sequencer,





or by playing with a MIDI Keyboard or a computer keyboard and recording it to the Piano Roll.

After having recorded your patterns, you can use them as building blocks to create your song structure.
You do that in the Playlist.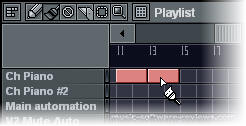 In the Playlist you can paint your song by arranging your patterns. Left Mouse click paints them, right click erases. Very handy and fast.
Every line of the Playlist contains a different pattern.
A song can be built from a mixture of repeating patterns and recorded tracks.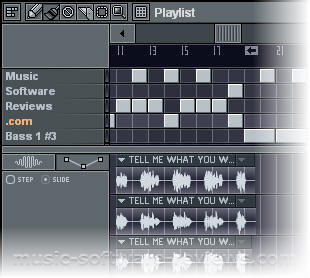 You can route the instrument channels of the patterns and the audio of the tracks to the mixer where you can add equalization and effects.

click to enlarge
You can render the output of the Master channel to disk. You do this in the File menu with the Export function.
You get a very handy Dialog-Box that lets you choose from a variety of options.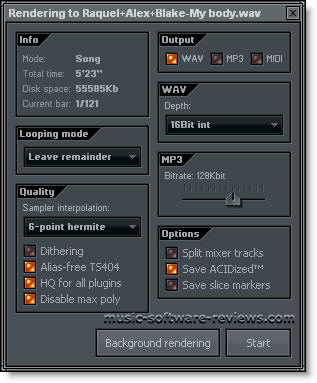 As you see you can save your song in WAV or mp3 format and your MIDI information to a MIDI file. If you check all options, you get very high quality but rendering may take a bit longer.
If you check the option split mixer tracks, you can also save all mixer channels as single sound files. This makes it easy to exchange songs to another recording program or to mix projects in another studio.
Continue with a ruthless review of the Instruments of FL Studio 6
click here
---