Bearshare 5.2.1 review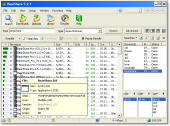 click for enlargement
Date of review: March 2006
Why are Bearshare and Limewire the most popular clients for the Gnutella network?
Contrary to Limewire that is open source, Bearshare is a closed source client for Gnutella. It's developers, Free Peers Inc. let you choose between three flavors. There's a paid Pro version with no advertising, a stripped down Light version and a sponsored version that includes advertising and Spyware.
At least it's announced which Spyware you get and you can decide if you make the deal or not.
Bearshare and Limewire are certainly the most active companies regarding development of the Gnutella network. Therefore it's no big surprise that they both have implemented most of the functions proposed from the Gnutella developers forum and are pretty similar in their performance.
It's rather the user interface which makes the difference. While Limewire has a slick and modern Java interface, Bearshare looks rather unspectacular and functional but not bad.
Now, let's take a closer look at this client.

Download
There are two versions of Bearshare 5.2.1 available. You can download the Pro and the sponsored version from the www.bearshare.com homepage.
I could not find the light version there without advertising. When I searched the Internet, I found some older light versions however.
You can download also the Pro version for free, but it presents you a secure order form where you can buy access for $19.95, after you have installed the software.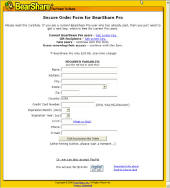 click to enlarge

Installation
When installing the free version, you get informed about the adware that installs on your system by the following screen.
click to enlarge
I think this is a nice touch to tell you which spyware you get.
As the program is only about 3,35 Mb, installation just takes around 2 minutes.
Microsoft Anti Spyware told me that this is a software that comes bundled with spyware, thread is considered moderate.

Settings
First thing you should do after installation is to configure your upload settings as with any file sharing software. It depends on how much bandwith you can (or want to) spend for uploads.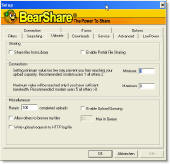 click to enlarge
In the above window I have made the settings for not sharing files at all. This is of course not recommended as you be punished by other users for this.
You should enable partial file sharing. The first protocols that offered this feature were BitTorrent, EDonkey2000, and Mike's Protocol. This option is now also available for the Gnutella network.
It delivers two major benefits.
First it prevents file curruption. It lets you download files in smaller pieces where each piece gets verified before the next starts downloading. This gives you much more security and you don't have to wait until the whole file is downloaded just to see that it's damaged.
Second, it lets you share files that are not fully downloaded yet.
Go through all the tabs in the settings dialog window and set your own preferences before you start downloading files.
You should choose at least the the download directories for incomplete and complete files, the upload settings and if you allow to become an ultrapeer or not.
Ultrapeers are computers that store file lists of other computers and work as an information central for other users. You are only chosen by Bearshare if your uptime and connection speed is high.
As bandwith gets used and the risk for getting sued might be higher as an ultrapeer, you can check off this option.

Connections

In the upper left corner you see the connections bar. You can detach that window as floating window that stays in front of all applications.
The slider lets you set the bandwidth you want to spend for Bearshare.
The Meter shows network activity and the 4 LEDs tell you something about connection status to the hosts, downloads, uploads and firewalls.

Searching for files
After selecting the seat search window by clicking on the magnifying glass in the row of symbols, You can type in your search term and choose from a dropdown window the category your file falls into.
You can choose between...
All
Music files
Video files
Applications
Audio
Images
Documents
In case you wonder what should be the difference between music and audio files...
Well, music gives you only music files and audio also gives you sound files for the keyword you are searching for.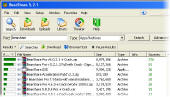 click to enlarge
The list of search results delivers a lot of information at a glance.
Probably the most important column is the first one, Rank. It is a value that tells you how likely it is that you are able to download that file.
A nice feature is also the mouse over text with a lot of information about the file over which you are hovering with your mouse.
To the right of this frame, there is a list of all the past searches. All you have to do is clicking on a past search and you see it in the search results frame again. Very handy feature if not new.

Downloads
Now if you decide to download a file you can just simply download it or you can retrieve additional information about it with the Bitzi tool.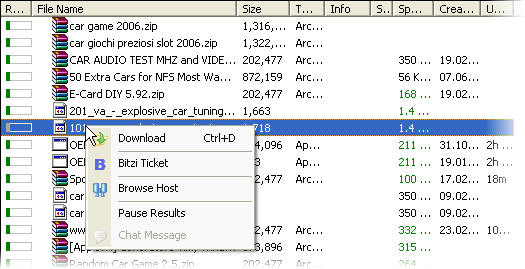 If you are not sure if a file is original, a virus or a dummy file you should look it up with Bitzi. If it finds it in it's database it tells you what it is with a so called Bitzi ticket. If it doesn't find it don't worry too much. A lot of files are still not registered.
You can also browse the host of this file for what else he has to offer.
In the download window you get information about all the files you already downloaded or you are about to download.

Uploads
There's really not much to say about Uploads except that you can watch them in the Uploads window.
When you have made your upload-settings for the max. and min. connections etc..., there's nothing more to think about except maybe watching the statistics but you can only do that in Bearshare pro.
In the sponsored version you have an upload report in the file menu that also gives you the data, if not on a graphical display.

Library
The library is just like the Windows Explorer with an additional window to watch details of a selected file.
You have 3 folders that are in fact filters of the same files that you have added to the library.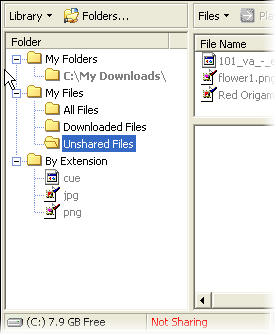 It's very easy to understand and if you can handle the Windows explorer you certainly can handle this library.


Help

The Help of Bearshare as of most file sharing programs, is a bit sloppy. It's an online help and you have to be connected to the Internet. You have no search function which makes it hard to find in depth information about a particular topic.

I also think that it's not quite up to date. I could not find the description of some functions, especially new ones.


Problems

The biggest problem I have encountered is, that in the starting phase or when you add files to the library my computer got very slow as Bearshare sometimes uses 100% CPU power. The online help says this is for hushing the files. I just don't know of any other software that needs so much computing power for doing that.

It also constantly transmits data in the background even if no up- or downloads are going on. This is probably the deal you have to agree with, in order to install it.


Conclusion



While it's probably more a matter of personal taste, I slightly prefer Limewire because it has more functions in the same window and I don't have to switch windows when I initiated a download and want to watch how it performs.

I could not see a big difference however in performance nor in the overall handling. Both programs work quite well once properly installed.

I had also the problem with both programs, no matter if the light or the Pro versions, that they constantly transfer some data in the background. Sometimes it was a setting I had to change but most of the time I could not find out what gets transferred there.

If I could make a wish, I would suggest a bit more transparency regarding transfers on the net. Bearshare has made the first step by telling you which spyware you get. But there's maybe more to confess and the road to go might be quite long.
---