I have been at Musikmesse Frankfurt this year to see what's new in music software and also had the chance to talk to developers to find out what's planned in the near future.



April 2006 - Frankfurt International Music Fair
---
part 1 - Steinberg, Apple, Image Line
part 2 - Vienna Instruments, Sienzo DMM
part 3 - Celemony, Arturia
part 4 - PG Music, Native Instruments
part 5 - Matrox, Make Music, Sibelius


Celemony

Head scratching at the stand of Celemony the makers of Melodyne. How can they transpose without artifacts? And now they also do it with polyphonic material.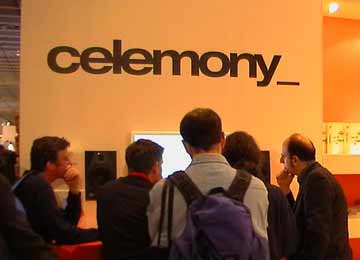 You might already know that the quality of time-stretching and pitch-shifting in Melodyne is unrivalled. Also on polyphonic material. The only drawback is it's integration into a sequencer.
While it supports the important standards, it's still not as easy to work with as it could be, when the algorithms were integrated into a top notch sequencer. I have asked the Celemony staff if they think about licensing the algorithm, or if they plan to build their own sequencer.
They told me that anybody can license the technology and Ueberschall, a sound sample manufacturer from Hannover already did. First Ueberschall licensed Melodyne technology for the 'Liquid Instruments'; now it's the other way around: the first-class Liquid Instrument sounds are being offered exclusively for Melodyne.
This was actually the only real news at the Melodyne stand in Frankfurt. The first Melodyne Sound Libraries, 'Saxophone', 'Bass' and 'Guitar' will probably be available at the end of April together with Melodyne cre8/studio 3.1 and cost 139 euros (US$159) from music dealers and the Celemony web shop. The libraries 'The Voice 1 and 2' and 'Horn Section' will follow in early summer.
I just wonder why none of the Big companies like Apple, Steinberg, Motu Cakewalk or Digidesign grabbed the chance to implement this technology. Maybe it is too expensive or they think they can develop it too, I don't know.
Asked, if they could develop an algorithm that lets you shift the single tones within a chord, they said it's too complex right now. But who knows? Pitch shifting and time stretching was also too complex a few years ago and now we have it in perfection.

Arturia

Arturia has presented it's new software instruments Moog modular and prophet V.
The prophet V emulates two synthesizers. The prophet5 and the prophet VS. sounds very much like the real one, which means awfully good. Only in the high frequency range it sounds a bit harsher than I remember the original. But I can't tell really because the listening environment on a music fair is certainly not the best place to recognize subtle differences.
The basic sound of the Prophet is the real thing, definitely.
Both synths are compatible to the original sounds and have more options than the originals like a modulation matrix, 32 voice polyphony, effects, etc...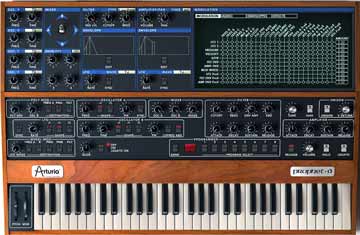 This is the modular Moog. All the tiny imperfections of the original, that are responsible for it's great sound, have been meticulously detected and digitally reconstructed using the unique TAE® (true analog emulation) technology.
It not only sounds like the original with all it's (sometimes rare) modules but also has newly developed modules like a formant filter or a ring modulator, that even let's you go further than with the original.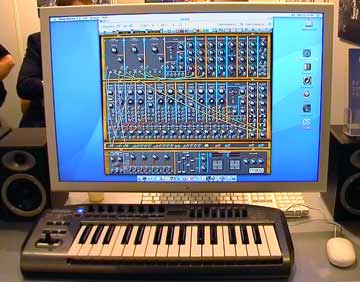 It seems that we are happy with our software instruments so we don't end up like this (seen at Doepfer booth Musikmesse Frankfurt 2006) ;-)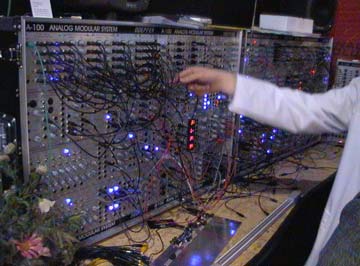 continue here...
part 1 - Steinberg, Apple, Image Line
part 2 - Vienna Instruments, Sienzo DMM
part 3 - Celemony, Arturia
part 4 - PG Music, Native Instruments
part 5 - Matrox, Make Music, Sibelius
---