I have been at Musikmesse Frankfurt this year to see what's new in music software and also had the chance to talk to developers to find out what's planned in the near future.



April 2006 - Frankfurt International Music Fair
---
part 1 - Steinberg, Apple, Image Line
part 2 - Vienna Instruments, Sienzo DMM
part 3 - Celemony, Arturia
part 4 - PG Music, Native Instruments
part 5 - Matrox, Make Music, Sibelius


Matrox

Why would a manufacturer for graphic cards rent a booth to display its products on the Musikmesse Frankfurt?

Well, the answer is simple. Any serious recording studio with a DAW needs as much screen as it can get. As more and more function migrate from the real world into the computer, you also need to see them at least.

Today you have your tracks, your mixer, your instruments, your editors and many other windows that wants to be seen.

Matrox, as a leading manufacturer for graphic solutions has every right to present his products on a music software department of a music fair. What you see below is not a fancy hype but almost standard in any bigger studio today.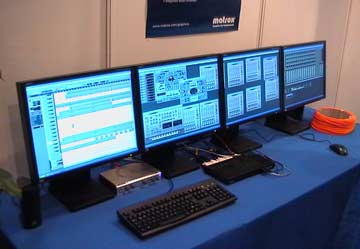 MakeMusic

The two leading programs of Notation Software were also present at the Musikmesse Frankfurt. Finale by MakeMusic and Sibelius. Finale presented it's new features in a convincing way. It's new sound, performed by a customized version of Native Instruments highly acclaimed Kontakt Sampler and the Garritan Personal Orchestra, was indeed very impressive.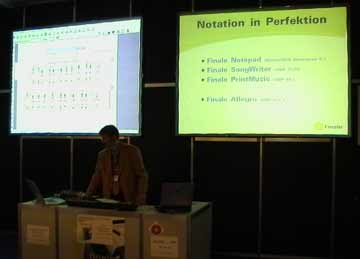 A maybe less known product of MakeMusic amongst professionals maybe SmartMusic, an intelligent accompaniment system for practicing, performing and teaching music. It has some very interesting new approaches to practicing music.

Sibelius

The other big player in Notation Software is Sibelius. It came with version 4 to the Musikmesse Frankfurt that features also Native Intruments Kontakt sampler with Garritan sounds. It also presented great innovations in scoring like dynamic parts where you don't need to write individual scores anymore or a feature for composing movie scores.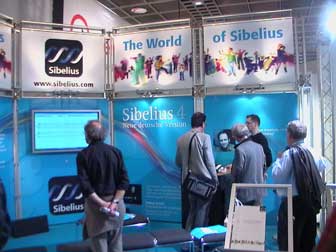 continue here...
part 1 - Steinberg, Apple, Image Line
part 2 - Vienna Instruments, Sienzo DMM
part 3 - Celemony, Arturia
part 4 - PG Music, Native Instruments
part 5 - Matrox, Make Music, Sibelius
---